Yesterday on July 11th 2008, Chaka Khan performed at Tivoli in Copenhagen (no, I wasn't there). She has been in the business for 4 decades (if not more), and I believe most of her songs has on some way or another been sampled and remixed and got remade. "Through the Fire" became "Through the Wire" when Kanye West put his hands on her lyrics and music. (I have read articles (and seen videos) of him showing off his MPC, explaining that it is his "favourite tool" for sampling and making beats)
I wish I could enjoy her music in private (oh yeah), or at least have the opportunity to attend her next live performance in US. My favourite song is Ain't Nobody, which I once requested on the swedish P3 Radio (click to listen/download my request).
"Den här låten väcker lite 80-talsminnen då jag och min kompis klättrade upp på idrottshallens tak och lyssnade på den på vår bärbara kasett-walkman."

"This song reminds me of the 80's when a friend and I climbed up to the sports hall roof and listened to it on our portable cassette Walkman."
There you go. That's actually the truth, I had such a great time growing up and climbing up the walls :lol:
I wouldn't consider myself a true fan of Chaka Khan, but some songs are hearty and uplifting and I am sure that many would agree the fact that she is a true singer and songwriter with plenty of charisma.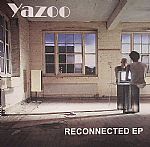 And I thought I could kill two birds with a stone…
Yazoo recently released a remix EP called Reconnected (Buy/Listen @ Juno). The sound of the 80's is back. Turn on the analogue synthesizers, frame and glaze the previous remixes of Yazoo and put on the rubber gloves, cuz' these tracks are really cool, very industrial and Yazoo:ish!
By the way, my favourite Yazoo track is Situation, it's also available on the new Reconnected EP.